The Leader in Accident Cases, Serving Bikers Injured in Motorcycle Accidents Throughout Connecticut and New York
Tragically, thousands of motorcyclists are injured or killed in Connecticut and New York every year. More often than not, another driver is at fault.
Bikers have the same right to use the roads as any other motorist. Unfortunately, car and truck drivers don't always afford bikers the respect and care they deserve.
Careless, inattentive, or aggressive driving can cost bikers their lives. Those who survive often suffer serious injuries, followed by staggering medical bills, time away from work, and intense emotional distress.
If you or someone you love has been injured or killed in a motorcycle accident in Connecticut or New York as a result of someone else's careless driving, you may be entitled to recover financial compensation from the driver's insurance company. Please call the motorcycle accident lawyers at Ventura Law at (203) 800-8000 today for a free case review.
Should I Get a Motorcycle Accident Lawyer?
While there is no legal requirement that you hire an attorney, you should understand the challenge you are up against without one.
Motor vehicle accident claims can be complicated. The insurance companies have much more experience in this area than you do, and they are not on your side.
Because motorcycle accidents tend to be so serious, the insurance companies are typically quite aggressive in disputing injury claims. For this reason, you should not accept an insurance settlement after a motorcycle accident without talking to an attorney first.
How Can a Motorcycle Accident Attorney Help Me?
At Ventura Law, our attorneys are committed to helping clients navigate their legal rights and pursue fair compensation for their injuries after an accident. If you or a loved one has been seriously injured in a motorcycle accident, you and your family should be able to focus on recovery while our team builds a strong case on your behalf.
Some of the ways our motorcycle accident lawyers can help you include:
Investigating and collecting evidence: Although you may have been able to exchange information with the at-fault driver and take photos at the scene, most motorcyclists are too seriously injured to take these steps. Our attorneys can investigate the accident on your behalf and gather crucial evidence. We hire experts to review the evidence and provide opinions as to the cause of the accident, who is at fault, the extent of your injuries, and other important matters.
Reviewing your medical records: Medical records document the severity of the injuries you suffered in a motorcycle accident. These records, combined with the bills you receive for medical treatment, represent a cornerstone of your claim. We strive to understand the full extent of your injuries so we can pursue all of the damages you deserve.
Identifying your legal options: Multiple parties may be liable for a motorcycle accident. Through comprehensive investigation, our lawyers can advise you of all of the options you have for filing a claim.
Calculating your damages: Medical bills and lost wages represent a significant portion of the losses in your motorcycle accident claim, but they are not the only damages you may be able to recover. An experienced motorcycle accident lawyer will assess all of the economic and non-economic damages in your case and seek recovery for all of the losses you have sustained.
Dealing with insurers: Accident victims who try to handle communications with the insurance company on their own face a number of pitfalls. Claimants without legal representation frequently recover less in damages, and they run the risk of saying or doing something that may result in underpayment or denial of their claim. By hiring an experienced attorney, your legal rights will be protected and you have a greater likelihood of being fairly compensated for your injuries and losses after a motorcycle accident.
Taking your case to trial: The majority of accident claims are settled before going to court. However, if the insurance company refuses to compensate you fairly, it is important to have a motorcycle accident lawyer with extensive experience taking cases to trial – and winning.
At Ventura Law, we fully investigate your motorcycle accident to determine how it happened, who is at fault, and the full scope of damages the crash may have caused. We also deal with the insurance company on your behalf.
Our goal is to negotiate a fair settlement that fully compensates you for your losses. However, if the insurance company refuses to negotiate reasonably, we are prepared to take your claim to trial. In fact, we make sure the insurance company understands that we are preparing your claim for trial from day one – a fact that has often motivated insurance adjusters to negotiate more reasonably.
What Causes Motorcycle Accidents?
Drivers often make the unfair assumption that motorcycle riders are reckless thrillseekers. Unfortunately, this leads many motorists to disregard the safety of motorcyclists when they are on the road.
The majority of motorcyclists are safe, conscientious riders. They also have the same rights as the other operators of motor vehicles.
Unfortunately, the carelessness of drivers can result in serious injury or even death for the motorcyclist. Some of the most common causes of motorcycle accidents in Connecticut and New York include:
Failure to check blind spots: Motorcycles have a much smaller profile than other vehicles. When drivers fail to check the rearview mirror or look over their shoulders when changing lanes, they run the risk of sideswiping the motorcycle.
Failure to see motorcyclists at intersections: Intersections are among the most dangerous sections of the road, especially for motorcyclists. One common (and hazardous) scenario in car-motorcycle accidents is a driver who turns left in front of an oncoming motorcycle. The subsequent crash may cause significant damage to the car, but the motorcyclist is likely to suffer serious, potentially life-threatening harm.
Tailgating: Rear-end accidents are bad enough when two or more cars are involved. When a motorcycle gets rear-ended, the rider could be severely hurt and possibly killed.
Opening a car door in front of a motorcyclist: When parking on the street, drivers and passengers must be aware of other vehicles coming up behind them. Motorcyclists can be seriously injured in collisions with the door of a stationary vehicle. 
Drinking and driving: Drivers who drink or take drugs and get behind the wheel are less aware of other vehicles, including motorcycles.
Other issues can also lead to motorcycle accidents. For example, many riders suffer injury as a result of crashes caused by poorly maintained roads. Vehicle defects are another major cause of accidents. One or more components on your motorcycle may be defective, increasing the likelihood of a crash.
Who Is At Fault in Most Motorcycle Accidents?
Contrary to the stigma surrounding motorcyclists, the majority of accidents are actually caused by the negligence of another driver. Issues such as speeding, aggressive driving, distracted driving, and more all present a threat to motorcyclists – especially given the smaller size of motorcycles compared to other vehicles.
Other drivers are not the only potentially liable parties in motorcycle accident claims. In accidents caused by a defective vehicle or part, you may be entitled to compensation from the manufacturer and other parties involved in the production, distribution, and sale of the product via a defective product claim. A government entity may be liable in claims where a dangerous road caused the rider to crash.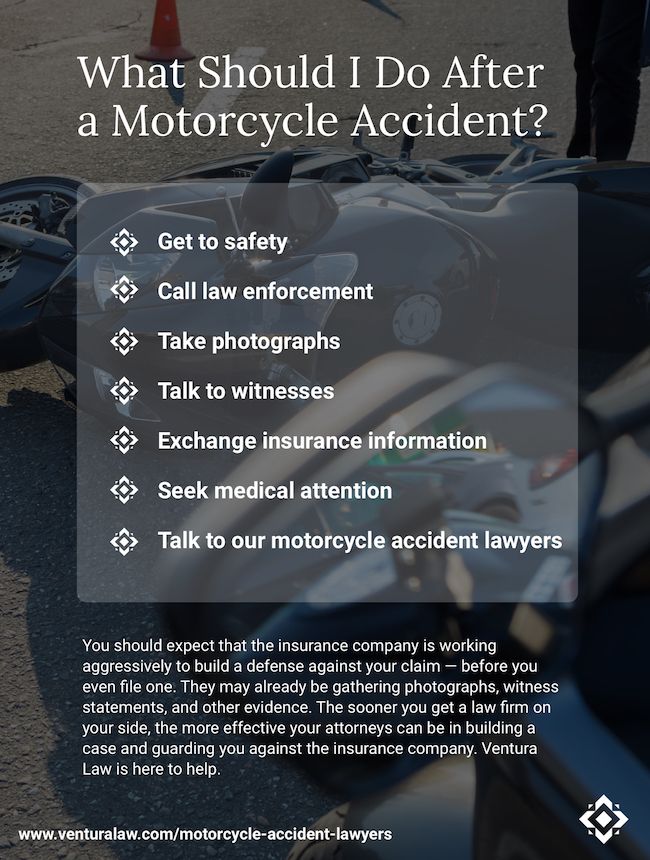 Common Injuries in Motorcycle Accidents
Motorcyclists are significantly more vulnerable to injury than the occupants of other vehicles. Even with a helmet and full safety gear, serious injuries are generally the rule rather than the exception in motorcycle accidents.
Some of the most common motorcycle injuries include:
Road rash
Lacerations
Bone fractures
Concussions and other traumatic brain injuries
Spinal cord injuries
Amputation injuries
Damage to internal organs
Burns
Tragically, it is not uncommon for motorcyclists to lose their lives as a result of the injuries they sustain in accidents. If your loved one died in a motorcycle accident, the attorneys at Ventura Law can file a wrongful death claim on behalf of your family.
What Is the Average Payout for a Motorcycle Accident?
Whether you receive a fair settlement or your case goes to trial, the most important consideration in any motorcycle accident payout is recovery for all of your damages. The average dollar value of a verdict or settlement is less important than being able to pay your current expenses and have financial and mental security going forward.
Before accepting a settlement from the insurance company, it is crucial to discuss the offer with a motorcycle accident attorney. Accepting the offer means you'll never be able to claim additional compensation for your accident – even though you might be entitled to much more, including:
Medical expenses
Lost income
Loss of earning capacity (i.e., compensation for the money you may have earned if the accident didn't affect your ability to work)
Out-of-pocket expenses for assistive devices, home-based care and services, modifications to your residence and vehicle, etc.
Pain and suffering
Mental and emotional distress
Scarring and disfigurement
Disability
Loss of consortium (compensation for the adverse effect of your injuries on family relationships)
Ultimately, the compensation you may be able to recover in a motorcycle accident claim will depend on the specific losses you have suffered. Our lawyers will thoroughly calculate the damages in your case and pursue fair compensation on your behalf. 
What Should I Do After a Motorcycle Accident?
Your health and safety should be your first priority after any motorcycle crash. Although there are steps you can take at the scene to start building your case, it is crucial to protect yourself and assess your injuries before proceeding.
If your injuries don't require immediate medical care, some of the most important steps you should take after a motorcycle accident include:
Get to safety. If possible, move your motorcycle off the roadway. Get as far away from oncoming traffic as possible.
Call 911. If you and/or anyone else is injured in the accident, you should call for emergency assistance. Also ask for the police to respond, as you will likely be required to report the accident to law enforcement.
Take photographs. Pictures can play a pivotal role in motorcycle injury claims. The more photographs you take at the scene of the crash, the better. Detailed imagery, captured from a variety of distances and angles, can help.
Talk to witnesses. Get full names, contact information, and statements from anyone who saw the accident happen.
Exchange information. It is crucial to get the name, contact information, and insurance information for every driver involved in the accident – ideally before you leave the scene. The responding police officer might be able to help with this exchange.
Provide a statement to the police officer. In Connecticut and New York, all accidents involving injury must be reported to the police. Although you have the option to report the accident at a later date, it is in your best interest to speak to the police officer at the scene. Your recollection of the accident will be clearer, resulting in a more accurate statement.
Seek medical attention. Even if the accident wasn't serious enough to require 911, you should still be examined by a licensed physician as soon as possible. Having a documented doctor's visit soon after the accident may prove important to your claim later. It's also the only way to know whether you have been hurt, as injuries are not always immediately apparent.
Notify your insurance company of the accident. Insurance companies require insureds to report accidents as soon as possible; check your policy for any specific deadlines to make sure you are in compliance. Although you are required to alert your insurer that you were in an accident, you are not required to make a statement. Indeed, doing so is generally not in your best interest.
Be cautious of interactions with other insurance companies. If an adjuster for the other driver's insurance company tries to contact you, it is in your best interest not to speak to them. Answering questions or making a statement could undermine your claim and make it difficult to recover the compensation you deserve.
Talk to a motorcycle accident lawyer. You should expect that the insurance company is working aggressively to build a defense against your claim. The sooner you get a law firm on your side, the more effective your attorneys can be in building a case and guarding you against the insurance company.
Ventura Law is here to help. Our attorneys have a strong track record in motorcycle accident claims, and we are committed to protecting your rights and pursuing fair compensation for your injuries.
How Long Do You Have to Contact a Lawyer After a Motorcycle Accident?
It is important to contact a lawyer as soon as possible. Here's why:
Motorcycle accident claims are subject to a strict statute of limitations that varies by state. Failure to take action within this time frame will make it impossible for you to recover compensation in the future.

In Connecticut, the statute of limitations for motorcycle accident claims (and other personal injury cases) is two years.
The statute of limitations for motorcycle accident claims in New York is three years.

It's easy to make mistakes after an accident, especially in the early stages when you don't yet have an attorney. The things you say or do (or don't say or do) can have a critical impact on your claim. The sooner you have an attorney guiding you and protecting your rights, the better.
Personal injury claims take time to prepare. It is in your best interest to give your attorney plenty of time to investigate your accident and engage the insurance company in strategic negotiations. Ideally, that process will begin long before the statute of limitations expires.
At Ventura Law, we are pleased to offer confidential consultations at no cost and with no obligation. This is your chance to talk with our motorcycle accident lawyers soon after your accident and determine your best course of legal action.
How Much Does a Lawyer Charge for a Motorcycle Accident Case?
Ventura Law is proud to offer motorcycle accident victims a contingency fee arrangement. You don't have to pay us anything unless we recover compensation for you.
If we do get you money, our fee will only be a percentage of your recovery.
It is our belief that no one should have to pay out of pocket to get justice for an accident that someone else caused. Our motorcycle accident lawyers are committed to making legal representation affordable for anyone. You can hire our office at no risk and with no upfront or out-of-pocket costs. There is truly nothing to lose.
Contact the Motorcycle Accident Lawyers at Ventura Law Today
Since 1957, Ventura Law has been helping accident victims navigate their legal rights. We understand the challenges our clients face, and our team is committed to taking on the insurance companies and pursuing fair compensation in each case.
Our attorneys and staff provide you personalized attention. We respond to phone calls and emails promptly, ensuring that your questions are answered and you get the support and legal guidance you need at this important time.
If you have been injured or lost a loved one in a motorcycle accident, Ventura Law is here to help. Please contact us at (203) 800-8000 today for a free case review. Our motorcycle accident lawyers serve clients in Danbury, Bridgeport, Hartford, Norwalk, and all of Connecticut, as well as New York City and other areas of New York.