The Leader in Accident and Injury Cases, Serving Injured Victims Throughout Connecticut & New York
Ventura Law has been defending the rights of injured individuals for over 65 years. We know that no two personal injury cases are the same and that no client is the same. Ventura Law's commitment to providing compassionate, hands-on service means that we will thoroughly investigate your case and zealously fight for your rights.
Your Right to Compensation
Personal injury law provides that persons injured through the fault of others are entitled to full compensation for their losses. In a typical personal injury case, an injured individual is entitled to damages for:
Lost wages
Lost or diminished ability to earn wages in the future
Past and future medical care for treatment and rehabilitation
Past and future pain and suffering
Punitive damages, in egregious cases
At Ventura Law, our experienced attorneys frequently handle cases involving:
Construction accidents
Nursing home negligence
Railroad worker injuries and deaths
Child molestation
Other cases of negligently inflicted harm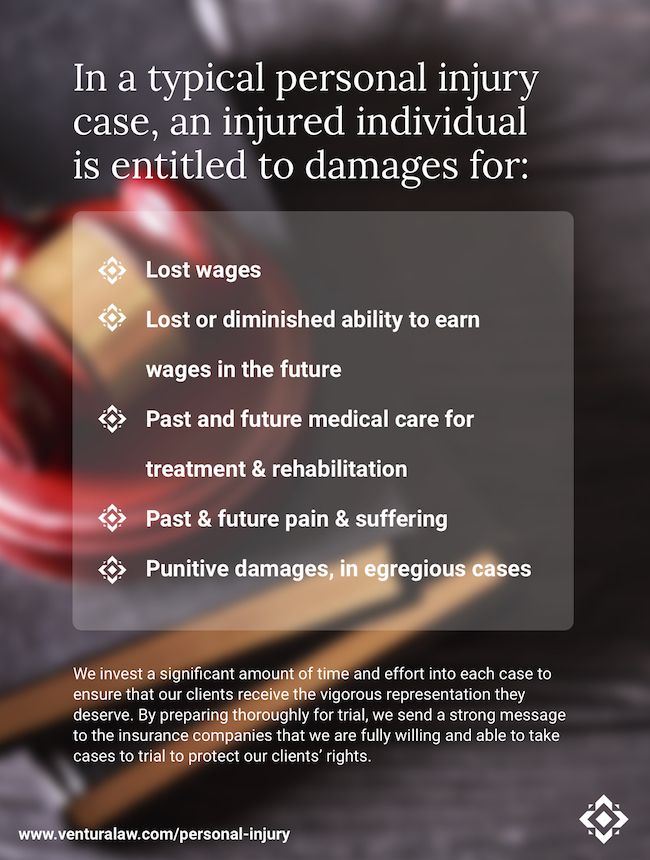 Personal Injury FAQ
What Should I Expect When I File a Personal Injury Lawsuit?
The best thing to do after suffering a personal injury is to speak to an attorney about your rights and legal options. After the initial consultation, our personal injury lawyers will investigate the accident on your behalf. This may involve:
Determining how the accident or injury occurred
Gathering evidence, including photos, videos, written reports, etc.
Interviewing witnesses
Speaking to your doctors about your injuries and your prospects for recovery
Hiring experts to evaluate the evidence and assist with calculating damages
Based on the investigation, our attorneys will begin to ascertain the value of your case. It often takes months to determine the value of your case, as it largely depends on the extent of your injuries, which may take time to develop and be reviewed by a doctor. Once we have all the information we need, we can then send a demand letter to the party or parties responsible for your injuries. This document details the losses you have incurred and the reason why the opposing party is responsible for them.
Most personal injury claims involve pursuing compensation from the defendant's insurance company (such as a car insurance provider, a property insurance carrier, etc.). Our lawyers will handle negotiations with the insurer for you. In many cases, it may be possible to resolve your claim through negotiations alone without having to file a lawsuit.
However, if the insurance company refuses to negotiate or won't offer a fair settlement, Ventura Law will file a personal injury lawsuit on your behalf. A settlement may still be possible leading up to or during trial, but our attorneys will pursue your case to a verdict if it is in your best interest.
What Is My Personal Injury Case Worth?
It is not possible to say with accuracy what the value of a claim is without knowing all the facts. One of the most important parts of the initial consultation is reviewing the damages you are aware of so far in your case.
Most personal injury clients know about losses such as:
The medical bills they receive in the mail
The wages they lose from being unable to work
Estimates to repair or replace damaged property, such as a totaled vehicle
But, they are often unaware of the full scope of damages that a personal injury attorney may be able to recover in their case. These may include pain and suffering damages, as well as compensation for disability and/or disfigurement.
Ultimately, the compensation you pursue must accurately reflect your losses and be supported by the evidence. One of the best ways to ensure that you do not overlook any damages you may be entitled to recover is to speak with a personal injury lawyer at Ventura Law about your case.
How Much Does It Cost to Hire a Personal Injury Lawyer?
At Ventura Law, we believe that financial status should not affect your access to justice. That is why your initial consultation is free, you never owe us any money upfront, and our firm advances the costs of your case until we achieve a favorable outcome. If we win the case or reach a settlement in your favor, you owe us a percentage of the recovered amount.
This is known as a contingency fee agreement. It relieves the financial concerns our clients may have about filing a personal injury claim.
Generally, our fee for a successful outcome in your personal injury case is one-third (33 ⅓ percent) of the recovered amount. During your free consultation, our team will discuss the fee agreement so you understand what to expect before hiring Ventura Law!
Do I Really Need a Personal Injury Attorney?
It is not uncommon for injury victims to be skeptical about hiring an attorney. Many are concerned about the cost (see above), while others are under the impression that hiring a lawyer could make the process of recovering compensation more complicated.
In reality, however, it is in your best interest to contact a personal injury attorney as soon as possible after you've been hurt.
Yes, the legal system does allow you to represent yourself in personal injury claims. This is known as appearing pro se. However, the likelihood of success in cases where plaintiffs represent themselves is quite low.
Without legal counsel, you may leave money on the table. You will have to take on all of the costs of litigation yourself. You may also make mistakes that could limit the compensation you are able to recover.
An experienced personal injury attorney can not only pursue maximum compensation on your behalf but ease your mind by navigating the complexities of your case. You also have access to a team of professionals dedicated to the success of your legal matter.
What Should I Look For in a Personal Injury Lawyer?
Though it is in your interest to hire a lawyer for your personal injury claim, it is really in your best interest to find the right lawyer for your personal injury claim. Some of the most important factors to consider when looking for a personal injury attorney include:
Experience. In addition to their years of legal experience, it is important to find an attorney who has handled your type of case. A law firm focused on personal injury cases is generally preferable to the attorney who handled your divorce or helped you get out of a traffic ticket.
Service. Some law firms (especially large ones) treat clients more like a name and number than a person. These firms may be good at what they do, but they typically offer little in the way of individualized assistance. To make sure all of your needs are met and your questions are answered, it is worth asking who will be assigned to your case, how you can reach the lawyer and his/her team, and more.
Client Reviews. Today, looking up online reviews is second nature. Your choice of lawyer is important, so see what previous clients have to say about their experience.
Results. A reputation for winning cases is always worth considering when you look for a personal injury lawyer. In viewing the verdicts and settlements, make note of the kinds of claims the attorney or law firm has won. This is another way to verify experience and make sure it aligns with your case.
Trial Experience. As we mentioned before, most personal injury claims don't end up in court. If yours does, however, it is crucial to have a lawyer who takes cases to trial. Not only will this improve the likelihood of a favorable verdict, but the insurance company may be more willing to deal if you hire an attorney who is known for being unafraid of the courtroom.
The most effective way to find out if a personal injury lawyer is right for you is to schedule an initial consultation. This first meeting enables you to learn about the attorney's background, personality, approach to trying cases, and much more.
What Should I Bring to My Personal Injury Claim Consultation?
The prospect of meeting with a lawyer may seem daunting, especially after a life-changing injury or accident. However, there is no need to feel nervous. At Ventura Law, we make each prospective client feel comfortable.
Our goal at the initial consultation is twofold: 1). We want to learn the details of your case, and 2). We want to get to know you. This information enables us to represent you most effectively.
With this in mind, it is helpful to bring the following to your personal injury consultation:
Notes on the Accident. Whether you took down information at the scene or wrote down what you remembered later, notes about your injury and how it occurred are a good starting point for establishing the facts of your case.
Photos of the Accident and Your Injuries. Images of the scene and the injuries you suffered are key pieces of evidence.
Bills You Have Received. Bills from doctors, hospitals, therapists, and other providers help establish your medical expenses. If you have received a bill or estimate for repairing your car, this can also prove economic damages for loss of property.
Pay Stubs and Tax Returns. To prove damages for lost wages in your case, our personal injury lawyers will need to present evidence of your regular income and the wages you have lost due to your injuries. Don't worry if you don't have it all available in the beginning – the attorneys can help you gather this information later in the case.
Medical Documents. Whether you received paperwork from your doctor on the care you received or you download the records from an online health portal, it is crucial for our lawyers to know the nature and extent of your injuries, what medical treatment you have received, the medications you have been prescribed, etc.
Your Insurance Policy. If you were injured in a motor vehicle accident, our lawyers can review your car insurance to advise you of your rights and obligations, including potential coverage for your losses.
Communications from the Parties Involved. If you received a letter from the at-fault party and/or the insurance company, be sure to bring it with you to the initial consultation. Our attorneys will review it and advise you what it means for your case.
Any information you can provide on your claim at the initial consultation will help our personal injury lawyers understand your situation. If you decide to hire Ventura Law, we will further investigate your case and aggressively pursue fair compensation on your behalf.
We Fight for Your Rights
At Ventura Law we know that injuries can happen to anyone.
We know that injury victims are often burdened by enormous guilt, even though the injuries are not their fault.
Finally, we know this: During the hours that follow a typical accident, insurance company investigators are busy taking pictures of the accident scene and recording interviews with witnesses. While injury victims are struggling to obtain child care and groceries for the family, insurance company investigators are carefully investigating the victims' personal background and work history. Each step of the way insurance company investigators are guided by their own attorneys. They are following a well-established process designed to pay the injury victim as little as possible.
Most injury victims, on the other hand, have no experience with personal injury claims. They are hurt, they are unsure what to do, they have their families and jobs to worry about.
If you find yourself in these circumstances, we urge you to immediately seek legal counsel. There is no cost for representation by Ventura Law. We work on a contingency fee basis, which means that we will not charge an attorneys' fee unless we win your case.
No case is too complex for our trial attorneys. We have represented clients who have sustained a wide range of injuries, including back and neck injuries, broken bones, disfigurement, spinal cord injuries, brain injuries and other serious injuries. We have also represented many family members in wrongful death claims.
We believe our extensive experience ensures that you will receive the highly knowledgeable representation your case deserves. If you have been hit by an automobile, either while driving or simply during a walk or bike ride, call (203) 800-8000 now for a personal injury attorney today.
We invest a significant amount of time and effort into each case to ensure that our clients receive the vigorous representation they deserve. By preparing thoroughly for trial, we send a strong message to the insurance companies that we are fully willing and able to take cases to trial to protect our clients' rights.