The Leader in Car Accident Cases, Serving Injured Victims Throughout Connecticut & New York 
If you've been injured in an auto accident, you aren't alone. It happens to hundreds of people in Connecticut and New York every single day. 
Like most of them, you are likely to face significant challenges in the weeks ahead: doctor's visits, medical bills, time away from work, prolonged recovery, and a complex insurance claims process… not to mention the pain, suffering, and emotional distress that will almost always accompany a car crash.
Most of the auto accidents are because of someone's careless driving — speeding, texting, running red lights, driving drunk, and so on. 
If that's happened to you, you shouldn't have to deal with the consequences on your own. In fact, the at-fault driver has a legal obligation to compensate you for your damages. 
In other words, you can file a personal injury claim against the at-fault driver's insurance company to recover the financial compensation you deserve, and well as compensation for pain and suffering. 
Unfortunately, insurance companies don't always do the right thing. On the contrary, the insurance adjustors will actively look for ways to pay you less than you deserve. Without a lawyer on your side, it can be hard to fight back. The insurance company simply has far greater resources than you do (and a lot more experience too).
That's where we come in.
The car accident lawyers at Ventura Law have spent years fighting for the rights of injured drivers, passengers, and pedestrians in Connecticut and New York. 
We have a long record of successfully standing up against insurance companies. In each case, we have fought tirelessly to get our clients the full and fair compensation they deserve. We'd like to do the same for you. 
Whether your injuries are extremely serious or more moderate in nature, we're here to help you navigate the claims process — carefully, strategically, and with peace of mind. Let us stand in your corner and put our experience on your side, fighting for your best possible outcome at every turn. 
Common Causes of Car Accidents
The truth is that the overwhelming majority of auto accidents could be prevented altogether if people would just drive carefully.
Careless driving is a choice — an unnecessary and irresponsible choice that has caused unfathomable suffering and claimed countless lives year after year. By holding careless drivers accountable, we can all help to make the roads safer for the future. 
The most common causes of car accidents include:
Speeding
Distracted driving (including texting while driving) 
Drowsy driving
Aggressive driving
Running red lights or stop signs
Failure to yield
Driving under the influence of alcohol or drugs (DUI / DWI)
Dangerous lane changes 
Violations of traffic law
Improper vehicle maintenance  
Failure to adjust to the weather or roadway conditions
These are only examples. Whatever might have caused your collision, the car accident lawyers at Ventura Law are here to help. No claim is too complex.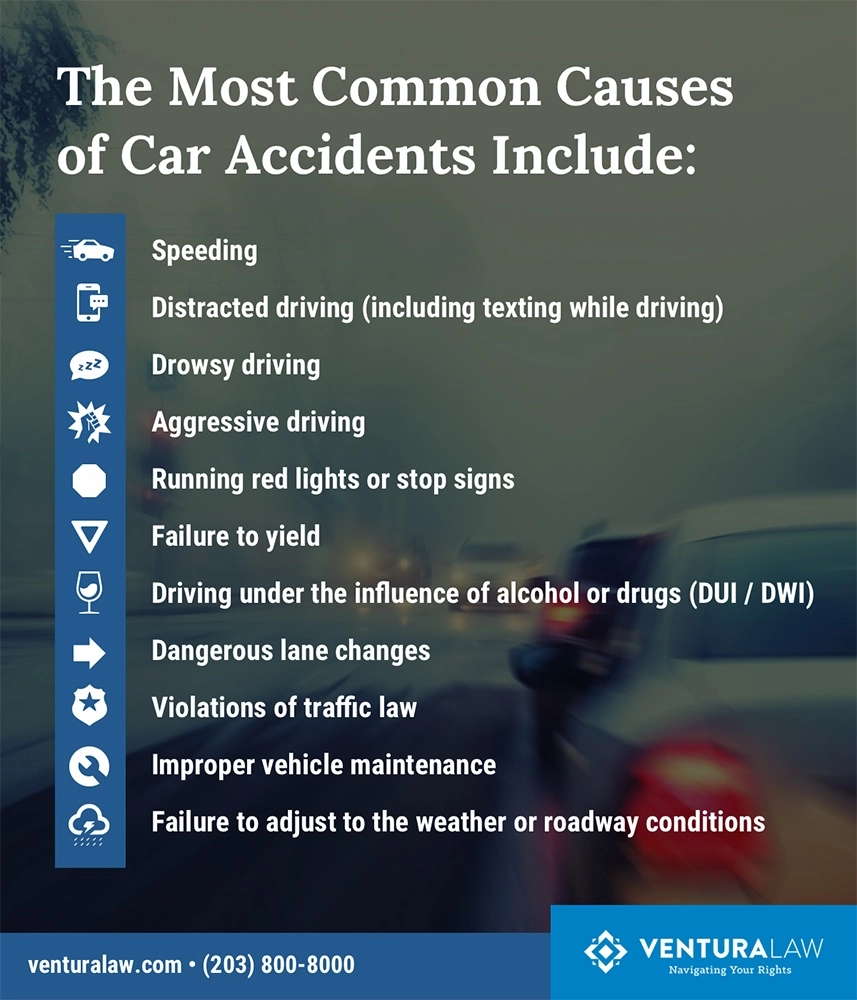 How Serious Does a Car Accident Need to Be to Justify a Personal Injury Claim?
One of the biggest worries we hear from people after a car crash is this: "Are my injuries really serious enough to take legal action?" 
Sometimes, accident victims worry that they're overreacting, exaggerating, or somehow taking advantage of the at-fault driver by pursuing a claim — even if the victim is facing medical bills and is truly in pain!
For generations, America's insurance companies have worked very hard to make victims feel guilty about claiming compensation. But here's what we want you to know:
In most cases, it is the insurance company (not the driver personally) who will have to pay for your damages. That is the reason insurance companies exist and why people pay for car insurance every year.
By shying away from your claim, you would be letting the insurance company pocket money that has been set aside to cover your expenses.
Moderate auto accidents can cause significant financial damages, even in the absence of catastrophic or life-threatening injuries. In fact, the single most common injury cited in auto accident claims is whiplash. 
Whiplash is a serious soft tissue injury that frequently causes significant or debilitating pain for months or even years. The insurance companies would love for you to downplay your own injuries, but the truth is that you wouldn't be dealing with this pain had the other driver simply been more careful. You deserve to be compensated for that, and the insurance company has a duty to pay for it. 
No two auto accidents are alike. Your injuries might not look like anyone else's. That doesn't mean they aren't real. You have rights, and we're here to fight for them. 
Common Injuries After a Car Accident
Some of the most common injuries after a car accident include:
Whiplash
Soft tissue injury
Scrapes or cuts 
Bruises and burns
Head or neck injuries
Traumatic brain injuries (TBI)
Knee injuries
Internal organ damage
Internal bleeding
Foreign objects in body
Fractured bones or bone fragments
Restricted range of motion
Back or spinal cord injuries
Ankle, wrist, or elbow injuries
scarring
Shoulder injuries 
Vision or hearing loss 
More serious injuries may include paralysis, arterial dissection, heart attack, stroke, loss of limb, or wrongful death. 
The car accident lawyers at Ventura Law can help with these or virtually any other injuries caused by careless driving. 
Connecticut and New York Car Accident Law
The law requires that every single driver carry basic auto insurance and that every driver shares the road responsibly with the drivers, passengers, and pedestrians around them.
In other words, drivers owe a duty of care to everyone else on or around the roads. Any dangerous, careless, unlawful, unreasonable, or irresponsible behavior is considered negligence under the law. 
Negligence is a breach of ae duty of care. Any driver who is found to be negligent can be held legally liable for the damages they cause. 
Companies, governments, and third parties can sometimes be held liable for their negligence too. Common examples include companies that employ careless drivers, governments that fail to take care of the roadways, and manufacturers who put dangerous vehicles or car tires on the market. 
If you have been injured by someone else's negligence, you may be entitled to substantial financial relief under the laws of our state. Our car accident lawyers can you help you understand your rights and fight for the justice you're owed.
Why Should I Hire a Personal Injury Lawyer After a Car Accident?
If you're like most auto accident victims, you might have a vague sense that a fair legal system should provide compensation but no clear idea about how to make that happen.
You might assume that the insurance company will simply take an objective look at your accident and then pay you what you're owed. Unfortunately, the process is seldom so simple. 
Insurance companies are for-profit corporations. They make their money by charging premiums, investing those premiums, and holding onto as much money as they can — which means paying victims the smallest possible amount of compensation. 
Generally speaking, insurance companies will only agree to pay you a larger amount of money if they're worried that refusal to do so could cost them even more at court. Without a lawyer on your side, the insurance company probably won't take your threat of legal action seriously. Without any leverage, you're left at their mercy. And no matter how nice the insurance adjustor might seem, they simply aren't on your side. 
Your lawyer, however, is on your side. In fact, from the moment you hire an attorney, he or she will have a strict and binding obligation to represent your best interests — zealously, passionately, and confidentially. 
Often, the insurance companies begin to negotiate claims differently once they are persuaded that the victim's attorney is serious, aggressive, and building a compelling case. 
Your lawyer can also help by putting the law firm's financial and investigative resources on your side. At Ventura Law, we advance the costs of expert witnesses, accident investigations, and other such expenses. This puts you on an even playing field with the insurance company… without costing you anything up front.
Auto accident victims who hire a personal injury lawyer generally tend to recover greater financial compensation than those who don't have an attorney on their side.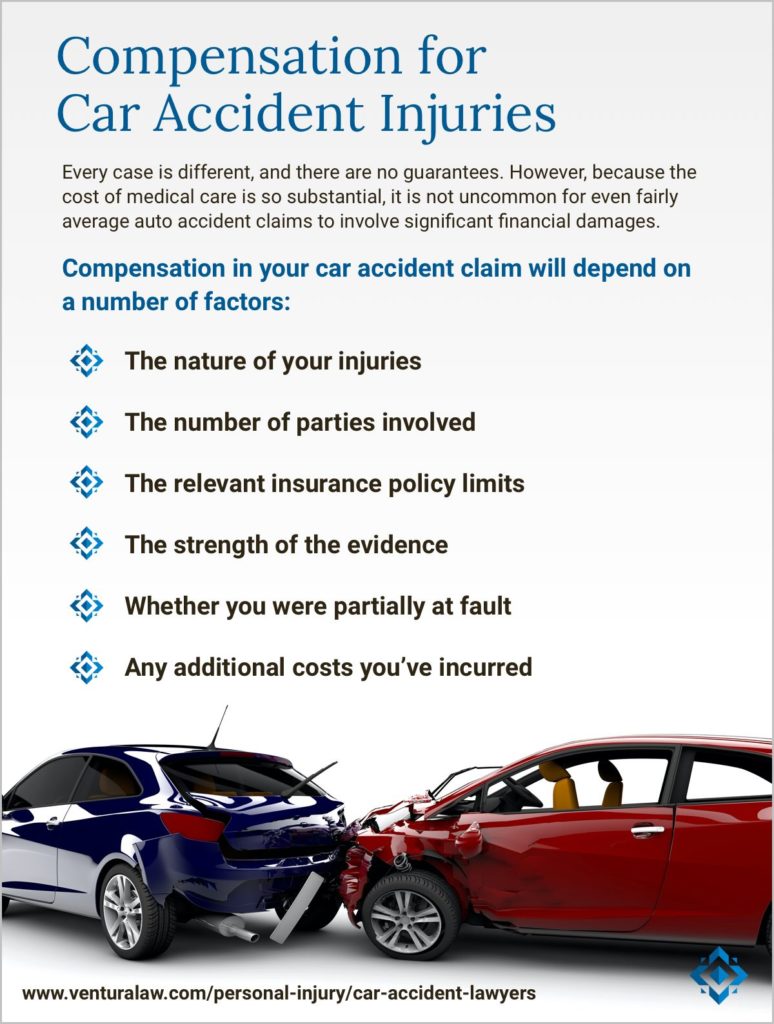 How Long Does a Car Accident Claim Take?
The timeline for negotiating an auto accident settlement can vary significantly from one claim to the next. 
Some claims are resolved in just a few months. Others take many months, or sometimes more than a year (especially for more complex claims involving large damages, unusual facts, or multiple parties). 
If your claim proceeds to a formal trial, resolution will likely take longer, and the timeline will depend in part on the court's schedule. 
As personal injury lawyers, we understand that our clients want to put their accident behind them as quickly as possible. No one wants a claim to drag on forever. Besides, if you have medical bills or other expenses, you probably feel the need to claim compensation as soon as possible.
At Ventura Law, we understand that concern, and so we do everything we can to handle our clients' claims efficiently. That said, we also understand that timing is an important part of strategy, and we never want to rush through the claims process only to undermine your claim. Our focus is always on fighting to maximize your compensation, putting you in the best position possible. 
Talk to us about what the timeline might look like for your case — as well as the options you might have for covering your medical bills in the meantime. Schedule a no-cost, no-obligation consultation with our car accident lawyers today. 
How Much Compensation Can I Get After a Car Accident Claim?
The amount of money available for your car accident claim will depend on a number of factors, including but not necessarily limited to:
The nature of your injuries
The number of parties involved
The relevant insurance policy limits
The strength of the evidence
Whether you were partially at fault (see below)
Any additional costs you've incurred
Every case is different, and there are no guarantees. However, because the cost of medical care is so substantial, it is not uncommon for even fairly average auto accident claims to involve significant financial damages. 
Generally speaking, compensation is available for:
Medical expenses
Lost wages
Future loss of income
Vehicle and property damage
Physical pain
Emotional suffering
Diminished quality of life 
Loss of love, affection, and support (in some wrongful death cases, for example)
Additional or alternative compensation may be available with some claims, depending on the facts and circumstances. 
In some situations, the value of the emotional damages (e.g. pain and suffering) can exceed the value of medical bills and other economic damages.
Want to learn more about how much your claim might be worth? It's a reasonable question, and we understand that you want to know as much as possible before taking action. While we can't promise or predict a particular outcome, we can help you understand more about your rights once we know more about your accident. We can also tell you how much money people have recovered under similar circumstances in your area. 
Contact us and schedule a consultation with our car accident lawyers to learn more.  
Should I Accept the Insurance Company's Offer After a Car Accident?
You should never accept an insurance company's offer without talking to an experienced attorney first.
The insurance companies follow a well-established process designed to pay victims less than they are owed. If they have offered you a settlement, it's not because they care about you. It us usually because their computer software has told them that's the smallest amount that will (A) tempt you and (B) protect them, letting them off the hook for a relative pittance.
Accepting an insurance company's offer after a car accident will require you to sign away your rights. You'll never be able to claim more money for that same accident again. 
Unfortunately, many people have made that decision only to discover later that their medical bills were bigger than they anticipated — or that their injuries suddenly stopped healing and required more extensive care.
Before you talk to an insurance adjustor, call the experienced car accident lawyers at Ventura Law. 
How Much Does It Cost to Hire a Personal Injury Lawyer?
Ventura Law offers contingency basis representation for all auto accident claims, so you owe us nothing unless we recover compensation for you.
If we do get you money, our fee will only be a percentage of your recovery.
Hiring our car accident lawyers won't cost you anything up front or out of pocket. We advance the costs of investigation and litigation. You have nothing to lose. 
Benefits of Hiring Ventura Law to Handle My Car Accident Claim
Ventura Law is a well-established personal injury law firm that fights to maximize compensation for injured drivers, passengers, and pedestrians throughout the state of Connecticut and New York. Consultations are available in person or over the phone. 
By matching painstaking preparation and vigorous advocacy with compassionate, hands-on client service, our experienced car accident lawyers have recovered millions of dollars on behalf of motor vehicle accident victims in Connecticut and New York.
We seek full compensation for our clients, including past and future medical expenses, pain and suffering, lost wages, and other forms of available relief whenever appropriate.
We hire expert witnesses, including medical experts and investigators, to analyze the cause of the accident and determine the full extent of the damages. If necessary, we can even help you make arrangements for your medical care. We collect evidence from the accident scene, interview witnesses, obtain police reports, communicate with insurance companies, negotiate settlements, and take claims to trial when necessary. We can represent your best interests at every step and every turn.
As a law firm, we believe in getting to know our clients. We understand that the outcome of your claim means everything to you. You deserve an attorney who will treat your case like the high-stakes legal matter that it is.
At Ventura Law, we value your time. We answer your phone calls. We reply to your emails. We speak your language — whether it's English, Spanish, Portuguese, or French. We are committed to giving you the personalized attention you deserve.
Our law firm consists of more than a dozen seasoned attorneys with many years of experience and a long record of success. 
In every case we take, we fight to get our clients the comprehensive compensation they deserve. We are proud to have recovered millions of dollars for accident victims in the past. We believe in the people we represent, and we fight for them accordingly. 
You can count on us to fight for the compensation you deserve so that you can move forward with your life.
To learn more about your options or take your first steps, contact our office a schedule a confidential, no-cost, no-obligation consultation with our car accident lawyers today. Call 203.800.8000 or contact us online.