The Leader in Accident Cases, Serving Truck Accident Injury Victims Throughout Connecticut and New York
If you've been injured in an accident involving a semi-truck, tractor-trailer, or any other large commercial vehicle, you may be entitled by law to monetary compensation for your damages.
These accidents tend to cause serious injuries and substantial financial damages. Even if there are no critical injuries or fatalities, the survivors and their families are often left with a mountain of medical bills, time away from work, and devastating emotional distress.
You may find yourself facing those challenges now. If so, you're not alone.
So often, truck accidents are the result of preventable negligence by the truck driver, their employer (the truck carrier), or the truck's manufacturer.
There's a lot to know about filing a truck accident claim in Connecticut or New York. We're here to help.
The truck accident lawyers at Ventura Law have spent many years helping injured people and grieving families throughout Connecticut and New York fight for full and fair financial compensation after a truck accident caused by negligence.
You may be entitled to much more than you realize. We'd like to help you navigate the claims process, fighting passionately for the justice you deserve at every turn.
Common Causes of Truck Accidents
Tractor-trailers and large commercial trucks aren't like other vehicles. They're built differently, with more complex machinery, and they're operated differently too.
Truck drivers must be specially licensed and must follow a strict series of rules and regulations under state and federal law.
If trucks are manufactured, operated, or maintained improperly, the consequences can be dangerous — and sometimes deadly.
Common causes of truck accidents include:
Driving under the influence of alcohol, drugs, or prescription / over-the-counter medication
Truck driver fatigue / drowsy driving
Improper truck fleet maintenance
Hours of Service violations (see below)
Heart attack, stroke, or falling ill while driving the truck
Distracted driving (e.g. texting, using CB radio, eating, reading, adjusting controls, etc.)
Failure to yield right of way
Running red lights or stop signs
Failure to look before making turns or changing lane
Speeding, tailgating, or aggressive driving
Vehicle rollover
Defective truck / improper driving technique / malfunction
Failure to adapt to weather and/or road conditions
The truck accident lawyers at Ventura Law can help with these or any other causes of collision.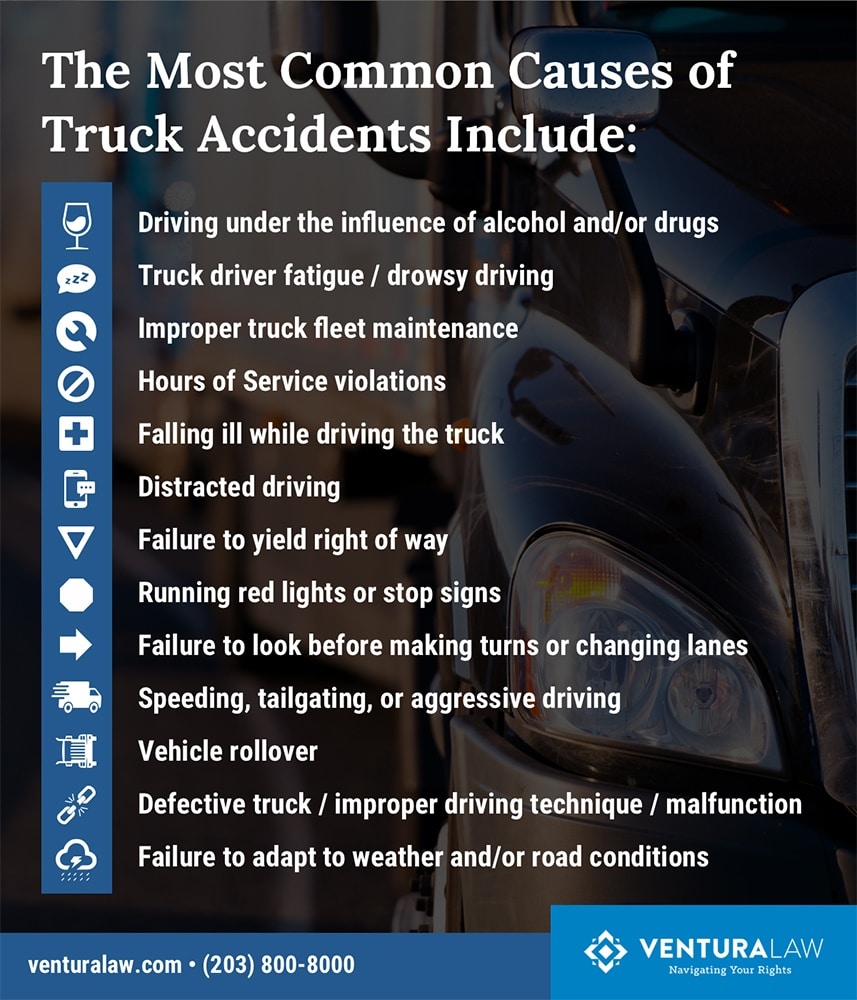 Common Injuries After a Truck Accident
Commercial trucks are massive machines that move at many miles per hour. Passengers, pedestrians, and car drivers are simply no match for a truck's sheer size, speed, or force of impact.
The injuries can be catastrophic or life-threatening. Tragically, some victims are killed on impact.
Other common truck accident injuries include:
Head, neck, back, or shoulder injuries
Traumatic brain injuries (TBI)
Whiplash and soft tissue injuries
Internal organ damage or bleeding
Severe scrapes, cuts, bruises, burns, or disfigurement
Vision or hearing loss
Torn arteries (arterial dissection)
Knee or ankle injuries
Broken or fractured bones / limbs
Spinal cord injuries or paralysis
Your injuries might not look like those described here. At Ventura Law, no injury is too novel or complex for our team to handle — we also help truck accident victims with more moderate injuries, such as whiplash.
In the event that a truck accident results in fatality, we are available to assist any eligible survivors and/or the estate itself with a wrongful death claim.
Differences Between Car and Truck Accidents
While it is true that large commercial trucks are essentially motor vehicles, you should understand that truck accident claims are quite different from ordinary car accident claims — and are inherently much more complex.
Here are a few of the most significant differences between car and truck accidents:
Severity of injuries: While serious injuries can happen with any auto accident, they are especially common in accidents involving big rigs, semi-trucks, and other such vehicles. The larger financial damages that accompany these injuries can mean that the insurance company will fight the claim more aggressively.
Federal regulations: While most truck accident claims are adjudicated under state law, they may nevertheless involve a complex interplay of state and federal law. The trucking industry is heavily regulated at the federal level. Special "Hours of Service" rules, for example, determine how long a truck driver can work before stopping to get some sleep. (Drowsy driving is a major cause of truck accidents on interstates.) Other rules pertain to licensing, employment, maintenance, and so on.
Choice of attorney: Not all personal injury or auto accident lawyers work with truck accident claims on a regular basis. You may want to choose a law firm that has extensive experience in handling truck accident claims specifically. Likewise, it's important to consider whether a law firm has sufficient financial resources to go toe-to-toe with big insurance companies over the course of many months or longer. The truck accident lawyers at Ventura Law can help.
Unique issues of negligence: Like car accidents, most truck accidents are caused by negligence. But certain types of negligence are more common in truck accidents, such as medication use, driver fatigue, and negligent hiring or training.
Mechanical issues: Tractor-trailers are much larger and involve more complex mechanics than ordinary vehicles. They pose unique risks, for example: jack-knifes, runaway truck collisions, overloaded cargo accidents, overturned trailers, etc. It's important to work with an attorney who understands how these accidents happen.
The parties involved: Truck accident claims sometimes involve a long list of parties, which may include multiple corporate interests (trucking companies, employers, multiple insurance companies, etc.).
More sophisticated evidence: From complex medical evidence requiring expert testimony to "black box" recordings and electronic metadata, truck accident claims frequently involve more extensive and complex evidence than do typical car accident claims.
Why Should I Hire a Personal Injury Lawyer After a Truck Accident?
Truck accident claims can be some of the most complex in all of personal injury law — and they can elicit extremely aggressively defense tactics from the opposing insurance companies. Walking that road on your own can be challenging to say the least.
No individual can match an insurance company or truck carrier in terms of financial resources, legal resources, or sophistication in the claims process.
We also want you to understand just how easy it is to make mistakes on your own.
The insurance company will want to interview you, take recorded statements, and scrutinize every piece of evidence. They'll likely pour through your social media and online activity, and they might even secretly interview your neighbors, family members, and friends. They will work very hard to discredit you, twist your own words against you, and trap you into speaking or acting against your own interests.
By hiring a personal injury lawyer, you put experience on your side. You'll suddenly have an advocate in your corner — someone who understands the process and has been through it many times.
Just as importantly, your lawyer will handle all the stress and headache of negotiation and litigation so that you don't have to. The right law firm can lend you tremendous peace of mind.
Studies have shown that accident victims who hire a personal injury lawyer tend to recover larger sums of financial compensation than those who do not.
The experienced truck accident lawyers at Ventura Law can handle every aspect of your claim for you, working tirelessly to put you in the best possible position and keep you there.
How Long Does a Truck Accident Claim Take?
Because of their complexity, truck accident claims can take a while to resolve.
Some claims can be resolved in less than a year, but more complicated claims may take years. The timeframe depends on a number of factors and on the complexity of your particular claim. When you meet with our attorneys for your initial consultation, we can give you a preliminary sense of how complex your claim might be and what a timeframe might look like (though it is never possible to make guarantees).
As truck accident lawyers, we understand the importance of resolving a claim without undue delay. Timely compensation matters. At the same time, it's important not to undermine your own interests by rushing into settlement. Often, the earliest settlement opportunity serves the insurance company's interests — not yours. That's why you should never accept a settlement offer without talking to an attorney first.
At Ventura Law, we pride ourselves on offering honest, practical, and strategy-oriented advice. When you hire our firm, you can count on us to keep you in the loop about the status of your claim (and about our latest strategies as they relate to the timing of your claim).
Depending on the circumstances, we may also be able to help you make arrangements to hold off on your medical bills until after your truck accident injury claim resolves.
How Much Compensation Can I Get After a Truck Accident Claim?
If you've been injured in a truck accident and someone else's negligence is to blame, you may be able to recover compensation for these and other damages:
Medical expenses
Lost income
Vehicle and property damage
Emotional pain and suffering
Diminished quality of life
Out-of-pocket costs incurred as a result of the accident
In the event of fatality, the estate may be able to recover wrongful death damages. Surviving spouses may also be able to recover compensation for their loss of love and affection under law.
The specific damages and dollar amounts available in any given truck accident claim will depend on the specific facts and circumstances surrounding the accident.
To learn more about the compensation you might be able to recover, please contact our office and schedule a confidential, no-cost, no-obligation consultation with our truck accident lawyers.
Should I Accept the Insurance Company's Offer After a Truck Accident?
It is never a good idea to talk with an insurance company or sign a settlement agreement unless you've discussed it with an attorney first.
Settlement agreements are binding legal documents. Once you accept the settlement, you will permanently lose the right to claim additional compensation for your damages.
What happens if your medical bills end up being more than you expected — either because surprise statements pop up in the mail or because your injuries suddenly start to get worse? 
What if you sign an agreement but then talk to a lawyer who tells you that you deserved significantly more money?
If you've accepted the insurance company's offer, your options (if any) will be extremely limited. So talk to our truck accident lawyers before you talk to an insurance adjustor.
Once you hire Ventura Law, you can simply tell the insurance company to talk to us instead. We'll take it from there (keeping you informed and in control all along the way).
How Much Does It Cost to Hire a Truck Accident Lawyer?
We are proud to represent truck accident victims on a contingency fee basis. You don't have to pay us unless and until we get you money.
If we succeed, our fee will be only a percentage of your recovery.  In the meantime, while your case progresses, we'll advance the costs of any investigative expenses, expert witnesses, or litigation fees necessary to prove your case.
You can hire our truck accident lawyers without any upfront or out-of-pocket costs. We'll fight for your interests and take all the risk. There's nothing for you to lose.
Benefits of Hiring Ventura Law to Handle My Truck Accident Claim
Ventura Law is a personal injury law firm with offices throughout the State of Connecticut and in New York.  We fight to maximize compensation for injured drivers, passengers, and pedestrians throughout the state of Connecticut and in New York. In the event of a fatality, we also provide wrongful death representation for eligible survivors or for the decedent's estate.
As a law firm, we believe in getting to know our clients. We understand that the outcome of your claim means everything to you. You deserve an attorney who will treat your case like the high-stakes legal matter that it is.
At Ventura Law, we value your time. We answer your phone calls. We reply to your emails. We speak your language — whether it's English, Spanish, Portuguese, or French. We are committed to giving you the personalized attention you deserve.
Our law firm consists of more than a dozen seasoned attorneys with many years of experience and a long record of success.
In every case we take, we fight to get our clients the comprehensive compensation they deserve. We are proud to have recovered millions of dollars for accident victims in the past. We believe in the people we represent, and we fight for them accordingly.
To learn more about your options or to take your first steps, contact our office a schedule a confidential, no-cost, no-obligation legal consultation with our truck accident lawyers today. Consultations are available in person or over the phone. Call 203.800.8000 or contact us online.