The Leader in Accident Cases, Serving Grieving Families Throughout Connecticut and New York
Nothing can prepare you for the unexpected loss of someone you love. 
Learning that their death was caused by someone else's negligence — and therefore could have been prevented — makes the loss even harder to bear. 
In the wake of tragedy, legal action is often the last thing on anyone's mind. After all, there is nothing a lawsuit, jury, or judge can do to make things right or wipe away your pain, grief, or sorrow.
But the reality is that an unexpected death can leave family members with unforeseen financial hardship. From medical and funeral expenses to the sudden loss of your loved one's income, you may find yourself grappling with costs you hadn't planned for. 
Those costs are real. Someone has to cover them. The burden shouldn't fall in your lap.
The experienced Connecticut and New York wrongful death lawyers at Ventura Law can help.
Wrongful death law is complex. This webpage will provide an overview of some of the basic information you need to know. More than anything, though, we want you to understand this: you don't have to face the claims process alone. 
It's a challenging road to travel, but our legal team is here to shoulder the burden so that you don't have to. We have helped grieving families throughout Connecticut and New York claim the compensation they need after a death caused by negligence. 
Now we'd like to stand by your side — with sensitivity and compassion but also a commitment to your rights and a command of the law — to fight for the full and fair compensation you deserve. 
What Is a Wrongful Death Claim?
Wrongful death is the legal term for any loss of life caused by negligence (a legal term that refers to any action or inaction that is careless, reckless, unreasonable, or unlawful). 
The States of Connecticut and New York each allow certain family members or survivors to file a claim for financial compensation against the parties responsible for the death (see below). 
In many cases, the at-fault party will have a liability insurance policy that covers the wrongful death damages, which means the family and/or estate will ultimately pursue their claim against the insurance company.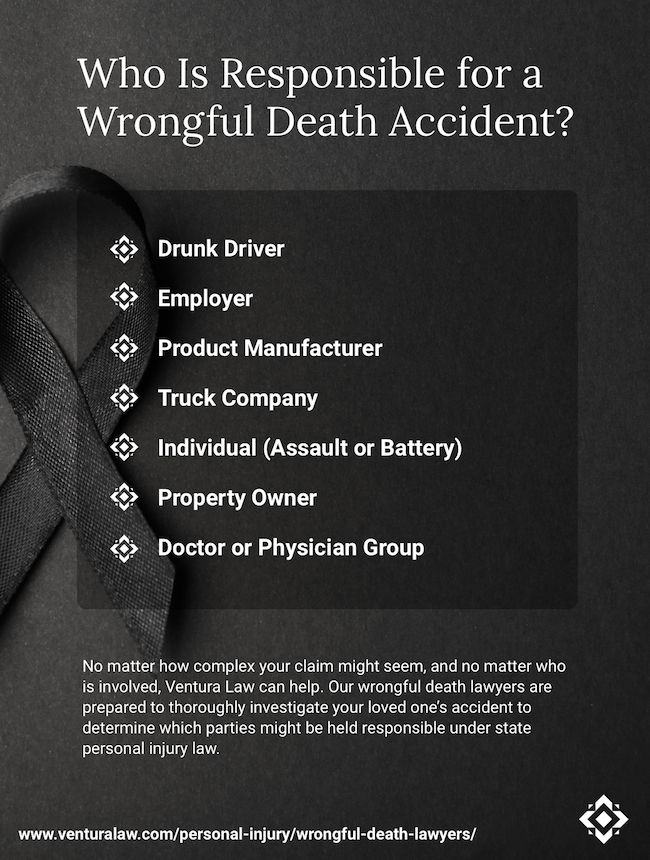 The insurance companies have adequate financial resources to cover the cost of the damages. Unfortunately, however, the insurance companies are notorious for making the claims process more difficult than it needs to be. In many cases, they will stubbornly refuse to pay more than a meager settlement… and in some cases, they outright deny legitimate claims without good reason. 
An experienced attorney can help you and your family stand your ground.
Wrongful death claims fall within an area of law known as personal injury law. It is a civil law process — completely separate from any criminal proceedings that may or may not unfold in connection with the death. 
The wrongful death lawyers at Ventura Law have years of experience in a wide range of wrongful death issues. We are here to stand by your side, fighting the at-fault parties and their insurance companies for the justice you're owed. 
Who Is Responsible for a Wrongful Death Accident?
Generally speaking, any party whose negligence contributes to a person's death may be held liable for that person's death under civil law.
Consider the following examples: 
A driver who chooses to get behind the wheel while intoxicated may be liable for killing another motorist in a drunk driving crash. 
An employer who creates dangerous workplace conditions may be held liable for an on-the-job fatality. 
A manufacturer may be held liable for putting dangerous machinery or pharmaceuticals on the market. 
A truck company may be held liable for deadly negligence on the part of the truck drivers they employ — and also for the company's own negligence (e.g. violating federal regulations, failing to maintain vehicles properly, etc.).
An individual may be held liable for assault, battery, or acts of violence that lead to death. If the assault happens because of poor security on public or commercial property, the owner of the premises might be held liable as well. 
If the death happens as a result of medical malpractice, liability may fall on the doctor individually, the doctor's physician group, the hospital or clinic where the accident happened, or any other health care provider who breached the relevant standard of care. Similarly, liability may extend to a nursing home or a pharmacy.
These are only a few examples of the many scenarios that can give rise to a wrongful death claim in Connecticut and New York. In some cases, the family and/or estate may have a claim against multiple parties. These parties may each have one or more insurance policies that provide coverage for wrongful death claims.
No matter how complex your claim might seem, and no matter who is involved, Ventura Law can help. Our wrongful death lawyers are prepared to thoroughly investigate your loved one's accident to determine which parties might be held responsible under state personal injury law. 
Do I Need a Personal Injury Lawyer for a Wrongful Death Claim?
The law doesn't require you to have an attorney, but proceeding without one can be a real challenge. 
Because the legal issues involved in these claims are so complex, navigating this path without extensive legal experience can be difficult — especially in the face of intensive opposition from the insurance companies. 
Wrongful death claims often involve substantial financial damages. Typically, the insurance companies will mount an aggressive defense.
Hiring an attorney can help to level the playing field. Your lawyer can handle the insurance companies for you, advocating for your interests and protecting you from easy-to-make mistakes. Just as importantly, hiring the right lawyer can send a clear message to the insurance company: you are serious about your claim and prepared to take them to court if they don't negotiate fairly.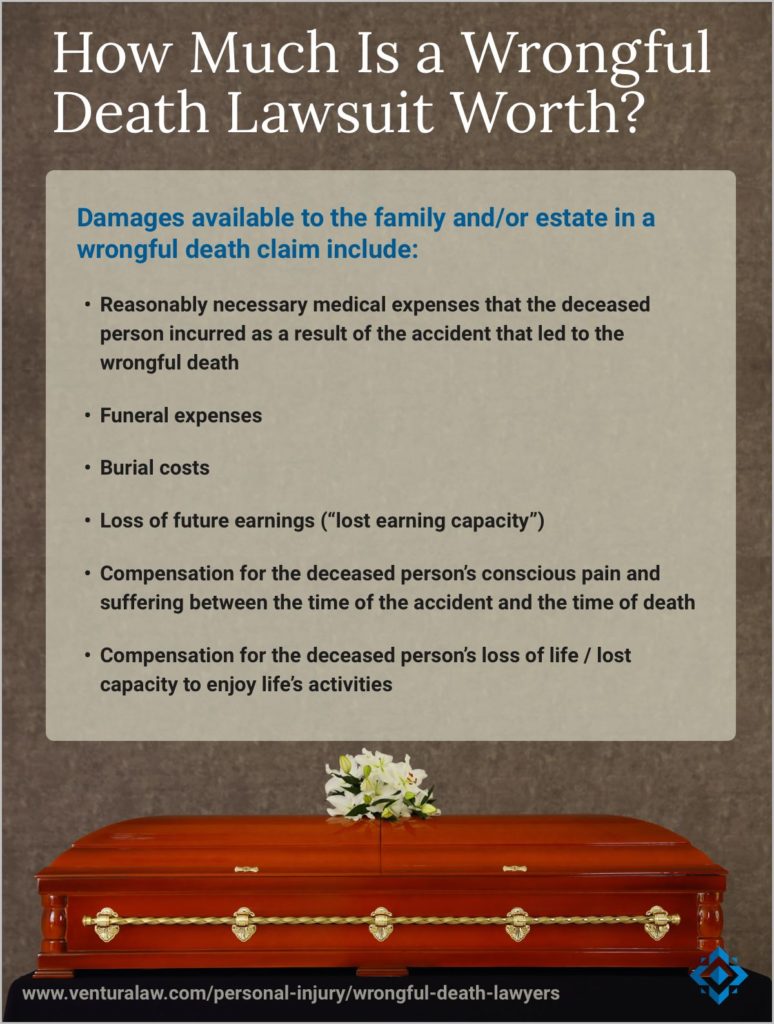 From research and investigation to advice and negotiation, the experienced wrongful death lawyers at Ventura Law can handle every aspect of your claim and give you peace of mind during a very difficult chapter in your life. 
What Can I Be Compensated for in a Wrongful Death Claim?
Damages available to the estate in a wrongful death claim include:
Reasonably necessarily medical expenses that the deceased person incurred as a result of the accident that led to the wrongful death (including nursing services, doctor's bills, hospital expenses, surgical costs, other medical facilities bills, medications, etc.)
Funeral expenses
Burial costs
Loss of future earnings ("lost earning capacity")
Compensation for the deceased person's conscious pain and suffering between the time of the accident and the time of death
Compensation for the deceased person's loss of life / lost capacity to enjoy life's activities 
In some cases involving reckless driving, the estate may be able to recover double or triple damages for wrongful death.  
Spouses filing a separate lawsuit may individually recover compensation for their loss of consortium, which is a legal term referring to the loss of the deceased person's love, affection, companionship, society, and sexual intimacy. 
The experienced wrongful death lawyers at Ventura Law can help you determine the damages that might be available in your situation and how they might be valued in financial terms under the law.  
How Long Does a Wrongful Death Claim Take?
Wrongful death claims are often quite complex, and resolving them can take some time. Every case is different. Some claims are settled within just a few months. Others may take a year. Meanwhile, especially complicated cases can take well over a year to resolve. If your claim goes to court, the trial process will require additional time (and will be subject to the court's calendar). 
Timing is very important in personal injury law. You don't want to file a claim or sign a settlement too soon. But you also don't want to wait too long. Strict statutes of limitation apply to wrongful death claims in Connecticut and New York, which means you could lose your chance to file if you delay.
We strongly recommend that you contact our wrongful death lawyers as early as possible. The sooner we are involved with your claim, the more helpful we can be. Once we know more about your situation, we can help to give you a clearer idea of how long your particular claim might take. 
Benefits of Hiring Ventura Law to Handle My Wrongful Death Claim
Ventura Law is a personal injury law firm with offices throughout Connecticut and in New York.  We fight to get grieving families the justice they deserve. We represent accident victims, surviving spouses, and estates throughout Connecticut and in New York. 
We understand how difficult and sensitive an unexpected loss can be. We are committed to advocating passionately for your best interests, but we never lose sight of what this tragic ordeal means to you and your family. We emphasize compassion, discretion, and sensitivity while also working diligently to represent your rights or the rights of the estate.  
Ventura Law is a firm that cares about its clients. We value your time. We answer your questions. We reply to your emails. We pick up the phone. Just as importantly, we speak your language — whether it's English, Spanish, Portuguese, or French. We are here to give you the personalized attention you deserve.
Our law firm is comprised of more than a dozen seasoned, experienced attorneys with many years of experience and a long record of success. 
To learn more about your options or to take your first steps, contact our office and schedule a confidential, no-cost, no-obligation legal consultation with our wrongful death lawyers today. Consultations are available in person or over the phone. Call 203.800.8000 or contact us online.