Serving Greater Danbury, Bridgeport, Hartford, Norwalk, & New York City
We trust our health care providers to give competent medical care when we are sick or injured. In most cases, these expectations are met. But not all doctors are competent, and even competent doctors make mistakes.
Doctors frequently fail to diagnose disease, or they give improper treatment, or they fail to warn patients of known risks that follow from prescribed course of care. When these things happen, the doctor may have committed medical malpractice.
Contact Ventura Law if you or a family member may have been harmed as a result of medical malpractice. Our experienced medical malpractice attorneys will thoroughly investigate your case to determine if you have a legal right to compensation for your damages.
Because medical malpractice claims are subject to strict statutes of limitation, it is vital that you seek legal advice promptly after suffering an adverse medical outcome.
Elements of a Medical Malpractice Claim
Unfortunately, medical malpractice is common.
A 2016 study published by the Johns Hopkins University School of Medicine found that in the United States 250,000 deaths each year are caused by medical errors, making health care provider error the third leading cause of death in this country.
Medical malpractice is not limited to medical errors. It also applies to misleading and negligent care. For example, pain killers—frequently lead people down the path towards addiction, and this fact was clearly being downplayed.
Another disappointing statistic: In a 2015 study conducted by the Massachusetts General Hospital Department of Anaesthesia, Critical Care, and Pain Medicine, researchers found that medication was improperly used in half of all surgeries at one particular hospital, and that one-third of these incidents resulted in harm to the patient.
Not all medical errors amount to medical malpractice. In order to establish a medical malpractice claim, the injured patient must prove:
Doctor-patient relationship. The person who committed the medical error must be someone who owed a "duty of care" toward the injured patient.
Negligence. A medical professional is negligent if he or she fails to follow the "standard of care" that a competent doctor would have followed under the same circumstances. Doctors do not have to be perfect, but they do have to be reasonably skillful and careful. Allowing a patient to become a victim of sexual abuse due to factors in their control is also an example of negligence.
Negligence caused harm. The patient must demonstrate that the doctor's negligence probably caused the patient's injuries.
Patient harm resulted in damages. The final piece of the puzzle is proof of damages. The patient must demonstrate that the doctor's incompetence caused damages. In a typical malpractice case, patients are able to obtain compensation for medical bills, lost wages and diminished earning capacity, plus physical pain and mental anguish ("pain and suffering").
Ventura Law's experienced medical malpractice attorneys can provide a free consultation to help you decide if you or a family member has an actionable medical malpractice claim.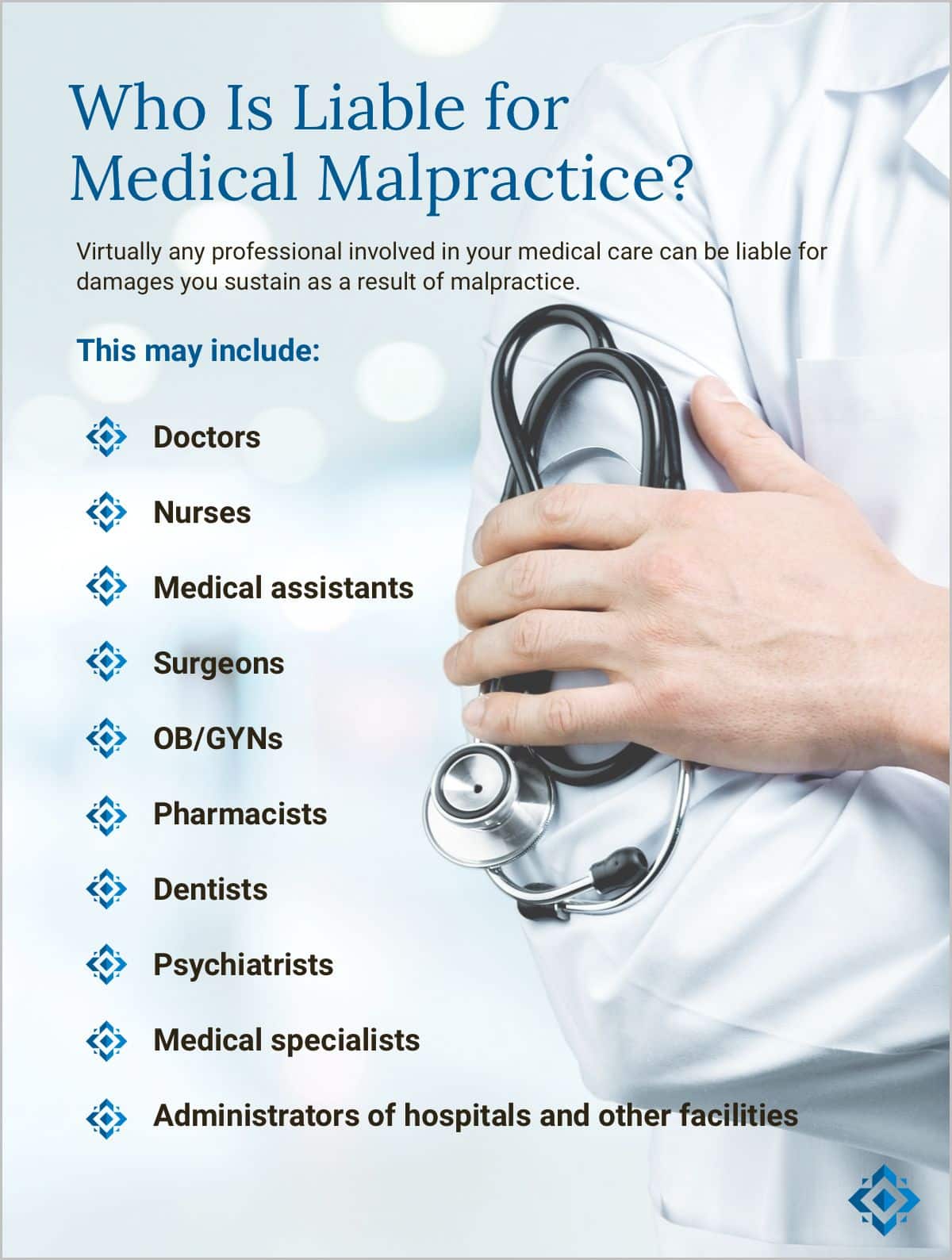 Common Malpractice Claims
Medical practice claims can be reduced to three broad categories of professional error:
Failure to diagnose medical problems. A recent study published in the Journal of the American Medical Association indicated that improper diagnosis happens in 10-20 percent of doctor-patient interactions. Improper diagnosis — either by failure to diagnose or by incorrect diagnosis — is the leading driver of medical malpractice claims. Failures to diagnose heart attack, breast cancer, appendicitis, lung cancer, and colon cancer have all led to catastrophic outcomes for patients.
Improper treatment. This can occur when a doctor resorts to treatments that no reasonable doctor would consider, or if the doctor incompetently delivers a medically appropriate treatment.
Failure to warn a patient of known risks. Prior to undergoing a course of treatment or surgical procedure, a patient is asked to give consent to the recommended medical intervention. Consent must be "informed consent," meaning that the doctor must first warn the patient of all known risks. If a doctor fails to warn the patient of such risks and the patient is subsequently injured by a known-but-unwarned risk, then the doctor may have committed malpractice.
Ventura Law can help medical patients sort through the complicated life choices that follow an adverse medical outcome, including the exploration of a possible medical malpractice claim.
Medical Malpractice FAQ
Who Is At Fault for Medical Malpractice?
Virtually any professional involved in your medical care can be liable for damages you sustain as a result of malpractice. This may include:
Doctors
Nurses
Medical assistants
Surgeons
OB/GYNs
Pharmacists
Dentists
Psychiatrists
Medical specialists
Along with individual practitioners, entities such as hospitals, clinics, and pharmacies may also be held liability for the negligence of their employees.
How Long Do I Have to File a Medical Malpractice Lawsuit?
Each state has laws governing the length of time you have to file a claim for medical malpractice. This law is known as the statute of limitations.
In Connecticut, the statute of limitations for medical malpractice claims is 2 years from the date of the injury or when the injury should have been reasonably discovered. Medical malpractice claims in Connecticut are also governed by a 3-year "statute of repose" that requires plaintiffs to file suit within 3 years, regardless of whether or not the injury was discovered or could have been reasonably discovered within the time frame.
In New York, the statute of limitations for most medical malpractice claims is 2 and a half years. However, several exceptions apply:
1 year in cases where a foreign object is left inside of a patient's body
2 years in cases of cancer misdiagnosis
2 years in cases of wrongful death arising from medical malpractice
10 years if the malpractice occurs when the patient is a minor
Filing on time is crucial. Failure to file a lawsuit within the statute of limitations for medical malpractice claims in Connecticut or New York will prevent you from obtaining the compensation you deserve.
How Much Is a Medical Malpractice Settlement Worth?
The answer to this question depends on a host of factors, including the nature and extent of your injuries and the economic and noneconomic damages you have sustained. The only way to know how much you are entitled to in compensation is to contact a medical malpractice lawyer and discuss the details of your case.
Furthermore, not all medical malpractice claims can be resolved via settlement. Your case may go to trial, so it is important to choose a lawyer with the resources and experience to handle your claim in court.
What Damages Are Recoverable in a Medical Malpractice Case?
Your medical malpractice claim should account for all of the damages you have sustained as a result of the practitioner's negligence. This may include:
Medical expenses
Anticipated medical costs for future treatment and rehabilitation
Lost earnings
Loss of future income, if the malpractice injury prevents you from working
Pain and suffering
Disfigurement and scarring
Loss of consortium
Loss of enjoyment of life
Although some states limit the amount of compensation you may be awarded in a medical malpractice claim, neither Connecticut nor New York has instituted caps on damages in these cases.
What If My Loved One Died as a Result of Medical Negligence?
If you lose your loved one due to the malpractice of a medical professional, our lawyers can file a wrongful death claim on behalf of you and your family. Your wrongful death medical malpractice claim should account for all of the economic and noneconomic losses you have sustained.
In Connecticut, compensation for wrongful death is focused on the losses the deceased and his or her estate have suffered, including:
Loss of income and future earnings
Funeral and burial or cremation expenses
Medical expenses for end-of-life treatment and palliative care
Loss of consortium
Conscious pain and suffering
Wrongful death claims in New York, meanwhile, include provisions for surviving family members. The compensation you may be able to attain in a medical malpractice wrongful death claim in New York includes:
Loss of income and financial support
The cost of a funeral and burial or cremation
Medical expenses from before your loved one's death
Loss of consortium
Loss of household contributions
In Connecticut and New York, the personal representative of the estate of the deceased must file the wrongful death claim. Damages may be awarded to the estate and distributed in accordance to the terms of the will (in Connecticut) or awarded to the decedent's spouse, children, and other eligible family members (in New York).
Do I Need a Medical Malpractice Lawyer?
It is in your best interest to hire an attorney to help with your medical malpractice claim. Medical malpractice litigation is complicated. Successfully litigating your claim requires extensive investigation and knowledge of laws and precedent in your case. It also takes time and resources to gather your medical chart and other records, enlist expert testimony, and more to build an effective claim for compensation.
Furthermore, doctors and hospitals are represented by large insurance companies that hire attorneys to handle cases just like yours. Trying to enter negotiations or go up against them in court has little chance of success without the right representation.
The attorneys at Ventura Law have extensive experience in medical malpractice claims. Our legal team will review your case for free and discuss the next steps for holding a negligent medical provider accountable for your injuries.
---
Life's Most Vulnerable Moments
Childbirth injuries and nursing home abuse are forms of medical malpractice that affect patients at their most vulnerable moments — the beginning and end stages of life.
Birth Injuries
A birth injury leaves a legacy of financial hardship as well as heartache and emotional loss. Parents whose baby was injured during childbirth face increased medical costs, a lifetime's worth of treatment and rehabilitation expenses, increased education costs, costs for providing a nurse or caretaker, and the nearly incalculable damage to the lives of the entire family.
Some of the more common sources of medical malpractice during childbirth are:
Delays in performing a cesarean section;
Improper use of forceps during delivery;
Improper placement and use of vacuum device during delivery;
Failure to detect and remediate hypoxia (lack of oxygen to baby's brain);
Improper pre-natal care;
Improper treatment of high-risk patients;
As with any other form of medical malpractice, an injured patient must demonstrate that the medical care provided fell below the standard that a competent doctor would have provided under similar circumstances.
If your child was injured during birth, contact Ventura Law for a sympathetic but thorough discussion of your legal options. Our experienced medical malpractice attorneys will meet with you, free of charge, to discuss how you can move forward in your lives following a birth injury to your child.
Nursing Home Abuse
Nursing home and assisted living facilities have a legal duty to provide care for elderly residents in a manner that conforms to industry standards and best practices. Unfortunately, abuse and neglect of the elderly at nursing homes is a fact of life. Some experts say that elder abuse is as prevalent as child abuse.
Elder abuse can take the form of financial exploitation, physical abuse, neglect by a caregiver, and emotional abuse. "Neglect" means the failure to provide the food, clothing, medicine, shelter, supervision, and medical care and services that a prudent person would deem essential for the well-being of another.
When abuse and neglect take place in a nursing home setting, their causes are typically understaffing, negligent hiring of caregivers, and inadequate training of nursing home personnel.
Families who take action against abusive nursing homes can not only obtain compensation for their elderly relative's injuries, but they can also put a stop to abuse and neglect of other residents at the facility.
If your elderly family member has suffered a personal injury or death while under the care of a nursing home or assisted living facility, contact Ventura Law for a full explanation of your legal rights.
Ventura Law will make sure that all responsible parties are held accountable while we work for full and fair compensation. We will fight to get you the compensation you deserve so you can begin to move forward with your life. Ventura Law takes all cases on a contingency basis, so you owe us nothing unless we recover compensation for you.
Contact Us Today
If you or a family member has suffered from medical errors or abuse at a nursing home or assisted care facility, you may have a claim for compensation. Please contact us today, or call 203.800.8000 for more information.