The Leader in Motor Vehicle Accident Cases Serving Connecticut and New York
At Ventura Law, we know that early involvement by experienced personal injury attorneys is critical to ensuring full compensation for injuries suffered in a motor vehicle accident. Motor vehicle accident victims have a lot to worry about: physical pain, lost work, medical bills piling up, a vague sense that a fair legal system should provide compensation but no clear way to make it happen. That's when an experienced attorney can really help.
We have represented thousands of motor vehicle accident victims. We ease our clients' worry and stress by taking the steps necessary to preserve relevant evidence and effectively present their case in court. We minimize our clients' personal struggles and maximize their opportunity to fully recover for their losses.
Motor vehicle accidents happen for many reasons. We provide legal representation for all of these types of cases:
Drunk Driving Accidents
Hit-and-Run Accidents
Inattentive Driving Accidents
Texting While Driving Accidents
Cellphone Accidents
Rollover Accidents
Fatal Motor Vehicle Accidents
Motorcycle Accidents
Boat and Jet Ski Accidents
Our experienced motor vehicle accident attorneys and investigators collect evidence from the accident scene, interview witnesses, obtain police reports, and communicate with insurance companies regarding the accident.
At Ventura Law, we also represent pedestrian and bicycle accidents. If you were hit by a vehicle while walking or riding a bike, you deserve compensation.
We hire expert witnesses, including medical experts, to analyze the cause of the accident and to determine the full extent of the property damage and physical harm caused by the accident. If necessary, we make arrangements for your medical care.
We do all of this without charge unless we win your case.
By matching painstaking preparation and vigorous advocacy with compassionate, hands-on client service, our experienced attorneys have recovered millions on behalf of motor vehicle accident victims. We seek full compensation on behalf of injured clients for past and future medical expenses, pain and suffering, lost wages and other forms of available relief.
Dos and Don'ts for Accident Victims
Call local law enforcement. A police report written in the immediate aftermath of a motor vehicle evidence can be important in determining fault for the accident.
Visit your doctor immediately if there is any chance that you were injured.
Admit fault or apologize for your role in the accident. The subject of fault is better left to experts who will later investigate the accident.
Notify your insurance company.
Leave the scene of the accident until you have all of the information necessary to pursue a claim against the other driver(s) involved. Important information includes the name, address, license number of the other driver's involved, the name of their insurance company and policy number, the names and contact information for all other vehicle occupants and witnesses on the scene.
Keep a personal record of your impressions of the accident, how you are feeling and, of course, keep a record of any medical bills and miscellaneous expenses you incur as a result of the accident.
Sign documents offered to you by an insurance adjuster.
Take photographs and preserve whatever evidence you obtained from the accident scene.
---
Finally, do contact an experienced motor vehicle accident attorney to protect your right to obtain compensation for your losses.
Ventura Law will make sure that all responsible parties are held accountable while we work for full and fair compensation. We will fight to get you the compensation you deserve so you can begin to move forward with your life. Ventura Law takes all cases on a contingency basis, so you owe us nothing unless we recover compensation for you.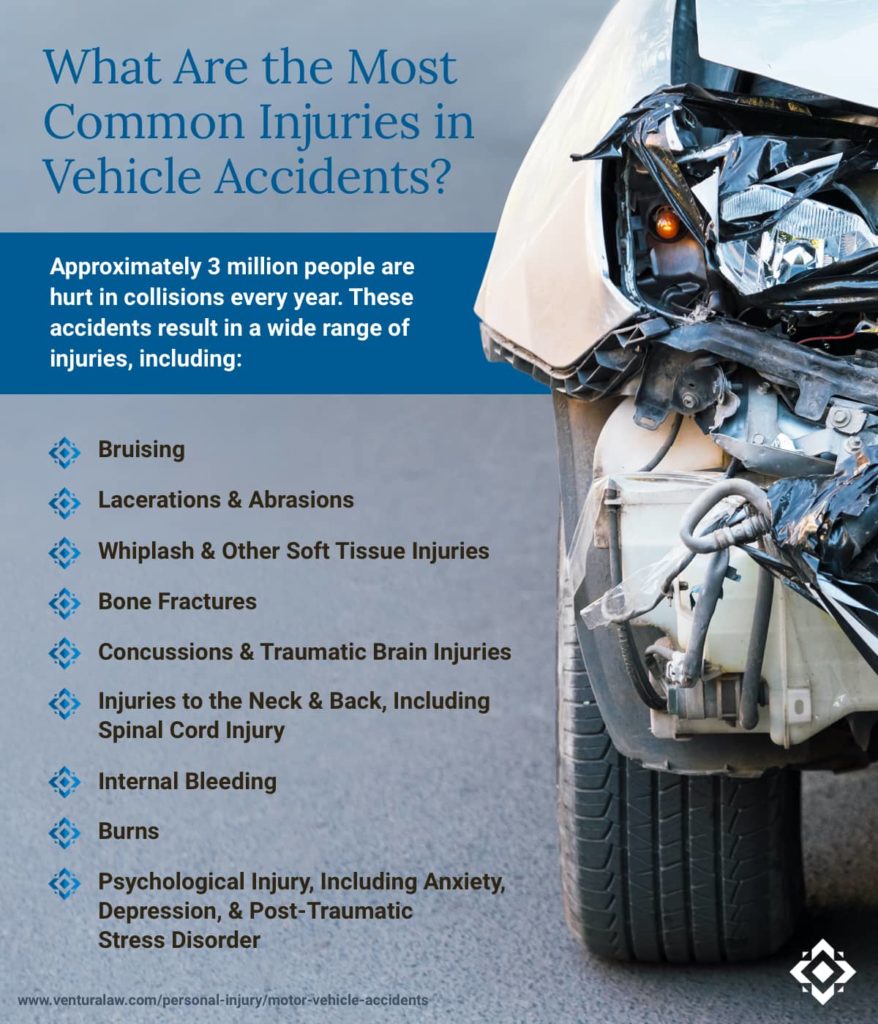 Motor Vehicle Accidents FAQ
What Is Considered a Motor Vehicle?
The answer to this question might seem obvious, but the legal definition of a motor vehicle may have a bearing in your case.
In Connecticut, the victims of accidents involving motor vehicles – including cars, trucks, and motorcycles, as well as pedestrian and bicycle accidents – can recover compensation through a claim against the at-fault driver. However, in New York, many of these cases fall under the state's no-fault law. Except in select circumstances, many accident victims in New York are limited to filing a claim for benefits with their own insurance provider.
Crucially, the New York no-fault law does not define a motorcycle as a "motor vehicle" as it applies to no-fault claims. If you are injured in a motorcycle accident in New York, there is no limitation on your right to sue for damages.
How Common Are Motor Vehicle Accidents?
According to a preliminary report by the National Highway Traffic Safety Administration, more than 28,000 people are estimated to have died in traffic accidents in the first nine months of 2020. The U.S. Centers for Disease Control and Prevention reports that approximately 3 million people are injured in collisions every year.
Millions of traffic collisions occur annually. Although not every accident will result in injury or fatality, it is important to understand the risks that all motorists face on the road.
If you are hurt or a member of your family is killed in a crash, it is important to contact a motor vehicle accident attorney as soon as possible. The team at Ventura Law has extensive experience representing clients in a wide range of vehicle accident claims.
What Are the Causes of Motor Vehicle Accidents?
Multiple factors can lead to accidents involving any type of vehicle. Generally, driver error is the foremost cause of collisions.
Some of the most common examples of driver errors that cause motor vehicle accidents include:
Excess speed
Reckless driving
Errors when turning or changing lanes
Distracted driving
Running stop signs and red lights
Fatigue
Driver inexperience
Aggressive driving
Driving while intoxicated
Not all accidents occur as a result of driver error. Issues such as dangerous weather (including rain, ice, snow, and fog) can make driving more hazardous and increase the risk of accidents. Other issues, such as automotive defects and roads that are improperly designed and maintained, also lead to a number of crashes each year.
Whatever the cause of the accident, you may have a claim for damages from one or more parties. This generally means taking action against the at-fault driver, but you may have additional options for compensation. For example, if a vehicle fails due to a defective part, you may be able to recover damages through a product liability claim.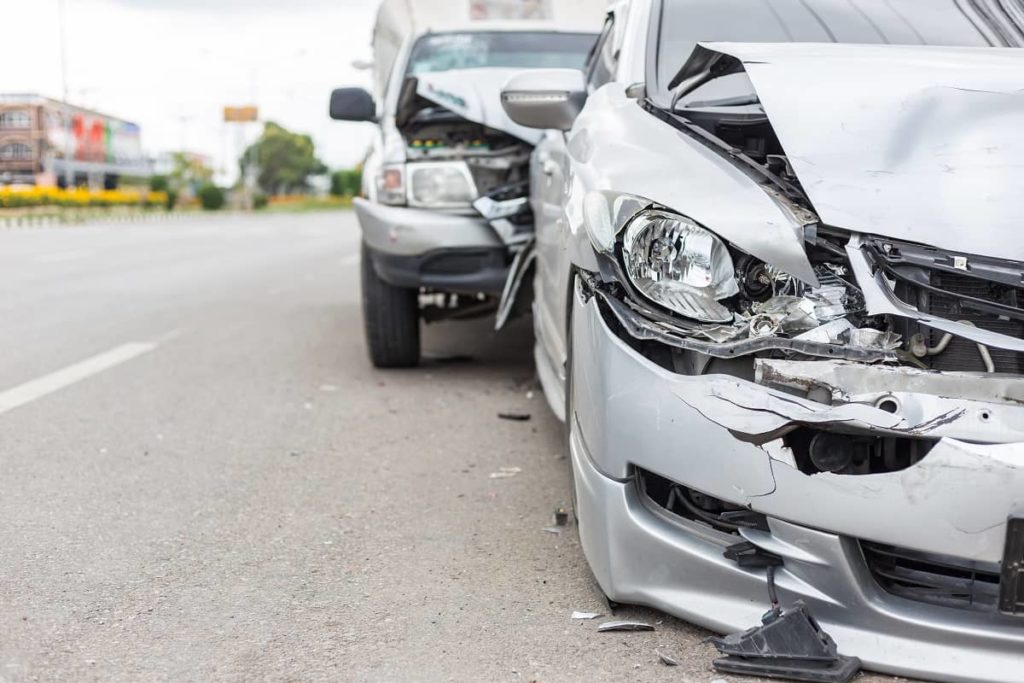 What Is the Most Common Injury in a Vehicle Collision?
Soft tissue injuries are among the most common types of trauma in motor vehicle accidents. Although multiple parts of the body may be affected (including soft tissues in the hands, arms, legs, and back), the soft tissue injury most commonly associated with auto accidents is whiplash.
Whiplash occurs when muscles, ligaments, and tendons in the neck get snapped back and forth by the force of a collision. The injury is not always apparent after an accident, and the symptoms can be difficult to diagnose. As a result, victims may be unaware of the injury and suffer chronic pain and other symptoms.
Other common injuries sustained by victims in motor vehicle accidents include:
Bruising
Lacerations and abrasions
Bone fractures
Concussions and other types of traumatic brain injury
Injuries to the neck and back, including spinal cord injury
Internal bleeding
Burns
Injuries in a motor vehicle accident are not confined to physical harm. Victims may also suffer anxiety, depression, post-traumatic stress disorder, and other psychological issues as a result of the accident.
What Do I Have to Do After a Motor Vehicle Accident?
From protecting your health to preserving your legal rights, there are a number of steps you should take after an accident. The most important things to do immediately following a motor vehicle accident include:
Get to safety. If you are able to move and your vehicle is operable, it is important to get out of harm's way as soon as possible. Move to the shoulder of the road if you can. If there is no place to move your car, turn on your hazard lights and cordon off the area with cones or road flares.
Assess yourself and your passengers for injuries. Check yourself for visible trauma (such as cuts, bruises, etc.) and ask your passengers if they are injured. If you or any of the occupants of your vehicle are seriously hurt, in pain, and/or feel disoriented, stay in the vehicle until help arrives.
Call 911. Many drivers are unsure when they should call 911 after an accident. If the crash resulted in injury, this should be treated as an emergency. Depending on the circumstances, ask for paramedics, firefighters, and the police to respond to the scene.
Receive medical care. Paramedics will assess victims for injuries and provide some treatment in the field if possible. For serious injuries, you may need to be taken to the emergency room. If you are not transported from the scene, however, there are a few additional steps you can take to collect evidence for your claim.
Document the accident scene. Take pictures of the damage to your vehicle and the other vehicle(s) involved, as well as the injuries you and your passengers have sustained. You should also document the area around the scene, including street signs, traffic lights, and nearby landmarks, as well as lighting and weather conditions. If you see skid marks or debris in the road, take pictures of these as well.
Exchange information with the other driver. Knowing the at-fault party or parties is crucial for recovering compensation after an accident. Therefore, you need to get the name, contact information, and insurance information from each driver involved in the crash. You should also take note of the types of vehicles and their license plate numbers.
Interview witnesses. If anybody saw the accident take place, get their name and contact information and ask them to describe what they observed. Eyewitness testimony can strengthen your case against the at-fault driver.
Give a statement to the police. In Connecticut and New York, accidents must be reported to the police if they involve injury or death to one or more persons. Although you can file a police report after the fact, the best time to provide a statement to the police is at the scene of the accident. Answer any questions honestly, and make sure you get the officer's name, badge number, and his or her precinct so you can obtain a copy of the police report at a later date.
Report the accident to your insurance company. You are legally required to notify your insurer that you have been involved in an accident. However, if the adjuster for the at-fault driver's insurance company attempts to contact you, you are under no legal obligation to make a statement or answer questions. 
Contact a lawyer ASAP. Having an experienced attorney on your side is crucial after a motor vehicle accident, especially if representatives from another driver's insurance company try to reach out to you. Contact an auto accident lawyer as soon as possible to protect your rights.
Taking these steps at the scene of the accident and shortly thereafter mark only the start of your claim. Ultimately, your ability to recover fair compensation for your injuries and damages rests on your decision to seek legal guidance.
Accident victims who try to handle claims themselves typically get less than their case is worth. Ventura Law will explore all options for recovering the compensation you deserve.
Do I Have a Personal Injury Case After a Motor Vehicle Accident?
Motor vehicle accidents represent a significant portion of all personal injury claims. Whether or not you have a claim will depend on your ability to prove that the other driver (and/or any additional parties) was negligent, and that this negligence caused the accident.
If someone else's negligence caused the accident and you incurred damages (i.e., losses) as a result, you may have a claim for the following:
Economic damages, including medical expenses, lost wages, and other financial losses
Non-economic damages, including pain and suffering and other losses that affect your quality of life
Punitive damages; these damages are only awarded by the court in select cases if you can prove gross negligence or intentional wrongdoing on the part of the defendant
Damages may also be recoverable for wrongful death if your loved one dies as a result of injuries sustained in a motor vehicle accident.
How Is Pain and Suffering Calculated in an Accident?
Pain and suffering is a broad term for non-economic damages affecting your physical health and mental well-being after an accident. These damages do not compensate you for financial losses sustained as a result of these issues, such as medical bills. Rather, damages for pain and suffering are intended to offset the negative effects of the following:
Chronic pain associated with your injuries
Mental and emotional difficulties stemming from the accident
Loss of enjoyment of life, such as fear that impacts your ability to perform everyday activities (i.e., driving) and your relationship with family members
Insurance companies frequently calculate pain and suffering in one of two ways. In one case, the insurer may multiply the economic damages you suffer by a rating determined through an assessment of the severity and permanence of your injuries. Alternatively, the insurance company may calculate the expected value of pain and suffering on a per-day rate.
Unfortunately, both of these methods can result in a settlement that does not accurately reflect your non-economic losses. Sometimes the insurer may not include pain and suffering in a settlement calculation – or the insurance company may not offer you a settlement at all.
For these reasons, it is important to work with an experienced motor vehicle accident lawyer. The attorneys at Ventura Law can gather evidence on your behalf and consult experts to evaluate the extent of your injuries and damages accurately.
What Does an Accident Reconstruction Expert Do?
Accident reconstructionists are one type of expert witness who may be involved in your claim. Their role is to determine why and how the accident happened through comprehensive review of the evidence and by employing scientific methodologies to reconstruct the crash. Accident reconstructionists may refer to photos of the scene, the police report, witness testimony, and other evidence to aid in the reconstruction.
Reconstruction experts today make frequent use of advanced software to create 3D animations reconstructing the accident. These animations can be introduced as evidence at trial, presenting the court with a compelling visual representation of how the accident occurred (and, by extension, the behavior of the negligent driver).
At Ventura Law, our attorneys thoroughly investigate motor vehicle accidents and identify how expert witnesses may be able to assist in building your claim. Although not every case requires it, expert reconstruction of the accident can help establish liability for your injuries and improve the likelihood of a favorable outcome.